September 2012 ContextSensitiveSolutions.org Update
In this update:
The CSS website would not be possible without your continued support. Please continue contributing content that highlights the best-practices in your area.
If you have any questions or comments, please e-mail us at info@contextsensitivesolutions.org.
CSS National Dialog 2 Workshop and Webcast
Date: Thursday, September 27, 2012
Time: Noon - 4:00pm (Central Daylight Time)
Location: Illinois Department of Transportation, 2300 S. Dirksen Parkway, Springfield, IL 62764
The first in the series of CSS National Dialog 2 Workshops will include an up-to-date overview of Context Sensitive Solutions plus presentations on exemplary CSS projects, plans and programs from the surrounding region. The case studies were drawn from submissions received from across the country, and were selected as examples of effective application of CSS principles to regional transportation projects, plans and programs.
The workshop will provide DOT employees and managers, government decision makers, community groups and future transportation professionals the opportunity to learn more about CSS and how it can improve transportation processes and outcomes. Workshop participants will draw from the case studies to identify and understand effective strategies and will have ample opportunity to network with fellow attendees.
The half-day workshop will be simultaneously webcast to allow a national audience to view and participate. Regional workshop participants are encouraged to attend on-site.
CSS Practitioners Manual: Going the Distance Together
Transportation professionals comprise a very diverse group of individuals that not only represent multiple disciplines, but also expertise on multiple modes of transportation and phases of transportation decision-making (policy, planning, programming, environmental studies, design, construction, operations, and maintenance). In short, there are many professionals involved in the "life of a transportation project." This guide speaks to all these professionals as "transportation practitioners" charged with helping provide mobility options to all citizens to support a good quality of life.
The focus of this guide is to help the practitioner build collaborative relationships; understand citizen values, interests, and needs; and produce effective and efficient decisions. There are several reasons why this is important, as presented in Section 1.1. The concept of "walking in another person's shoes" is an appropriate metaphor to explain the purpose of this guide. The overarching goal of this guide is to help practitioners find common ground with citizens by listening to them and understanding how transportation affects their quality of life. This guide is a companion to the Citizen's Guide, which is focused on helping citizens understand the life of a transportation project, including their own roles in the process and the professional expertise and responsibilities of practitioners. The key message being conveyed by both guides is that practitioners and citizens share responsibility for solving transportation problems. However, this also implies that each group must work hard to understand and embrace the other's perspective and co-create shared solutions.
To view the guide click here.
Sustainable Communities Case Study Database
The Partnership for Sustainable Communities is pleased to announce the launch of the Sustainable Community Case Study database, available at www.sustainablecommunities.gov/studies.html This online resource provides access to research and reports on communities that are working with HUD, DOT, EPA, and other Federal agencies to invest in transportation, affordable housing, and environmental protection.
The database includes two new case studies on the economic benefits of the Partnership's work. In Cleveland, public and private investments catalyzed a striking transformation along Euclid Avenue. Construction of a new bus rapid transit (BRT) system known as the HealthLine and clean-up and redevelopment of numerous vacant and abandoned properties and infrastructure have helped revitalize the area. As a result, Euclid Avenue has seen $4.3 billion in investment and redevelopment, the addition of 22,000 square feet of retail space, and the creation of 5,000 jobs since 2005.
Redevelopment in downtown Milwaukee highlights how resources from Federal agencies, combined with State and local resources, build on each other to provide economic, environmental, and social benefits. The city cleaned up downtown Milwaukee's largest industrial brownfield, increased the number of downtown residents, and spurred additional private-sector development. The North End, an 83‐unit, mixed‐use apartment building with about 12,000 square feet of ground‐level retail space, is now located on the brownfield, which has increased property values and the city's tax base.
To view the guide click here.
Marquette Interchange Profile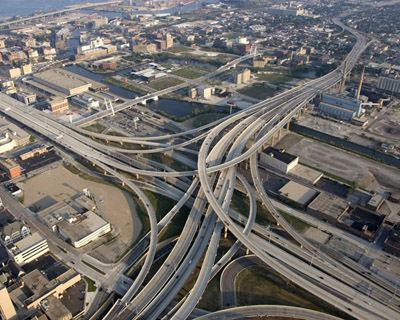 A brief case study of the redevelopment of the Marquette Interchange, which moves with 300,000 cars daily. The summary includes an overview of the CSS process used to conduct feasibility research, and planning, for 2 million square feet of roadway.
To read more about how CSS was integral to the delivery of this mega project click here.
Upcoming CSS Events
Next Up
CSS Webinars
National Dialog 2
CSS in Education
ContextSensitiveSolutions.org is made possible by the Federal Highway Administration's (FHWA) Surface Transportation Environment and Planning Cooperation Research Program (STEP).